Our Story

Many people have crossed our path along the way who brought a wealth of information, love and guidance to enhance the quality of our lives. And each and every one ultimately, in their own special way, led to the creation of FurryKids.net.

This is the short story, but perhaps it may sound familiar to you. My Akitas, Trump and Jasmine, were very young when they began to experience serious health problems. But, in 1991, we had the good fortune to be referred to Jean Dodds, DVM, founder of HemoPet and she became our lifeline. Someone surely was looking out for us when she was brought into our lives. You see, for the better part of his first two years, Trump would come home utterly exhausted from short walks. It would take him an hour or so to recuperate. He would lay in the hall panting heavily, not able to get up. I kept taking him to the vet during that year and a half and all they said was "he has worms" and would give a dewormer. But it did not help.

Then, after a rabies shot in August 91, he had two seizures. After the seizures, he went lame and subsequently was diagnosed with hip dysplasia in September of that year. Trump was going down very, very fast and I was desperate to help him. My friend at Akita Rescue, Puller Lanigan, said, "Call Jean Dodds!" I did. And life changed for the better from that moment on. With just one phone call and me describing the symptoms, Dr. Jean Dodds immediately knew, first of all, that he was hypothyroid. Sure enough, having the proper tests proved that both Trump and Jazzie had this disorder. From the test results, Jean prescribed recommended dosages and continued to monitor them for the rest of their lives.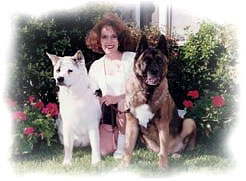 There was heartache along the way to be sure. What turned the tide was their last-ever rabies vaccine in 1995. Jasmine was literally paralyzed with pain - she couldn't move a step without crying out in excruciating pain. And Trump, who never displayed an aggressive or mean moment in his life, got aggressive and bit Jasmine in the neck - the blood was everywhere. I was finally convinced with Jean's ever available help and guidance -- and I never vaccinated them again. Another life-changing decision I made was a switch to feeding a raw diet around 1996.

Our little story would be very incomplete if I did not mention five other incredible veterinarians and healers who guided me through the learning process of holistic health and healing: Pema Choepel Mallu, DVM; Maureen McIntyre, DVM; Rebecca Verna, DVM; Pauqel Mason; and Jasmine Hisha, a most gentle, wise and gifted Cherokee Medicine Woman who I have the privilege to know; and most of all, my parents, John and Olympia Rodgers, who whole-heartedly supported us through thick and thin. Thank you all.

It is my hope that if you are striving to help your own beloved animals, please take advantage of the information, products and referrals available through FurryKids.net. It was a long time in forming. And now it is here for you and your pet. I assure you that your life and the life of your animals will be forever changed when you start down the path to natural healing.

FurryKids.net has been created in honor of Trump and Jasmine and all that they endured so that others may now be helped. Most of all, FurryKids.net is here to help make your journey along this road less traveled, a journey that is filled with awe and wonder of the holistic ways.

<< Back <<