Product Highlights

Lumen Photon Light Therapy - "Healing with Light"
Light Therapy has been independently studied for more than 40 years worldwide. Visible and infrared light have been shown to affect positive therapeutic benefits to living tissues and organisms on a cellular level. The Lumen 90 offers 8 specific settings to promote different levels of regeneration.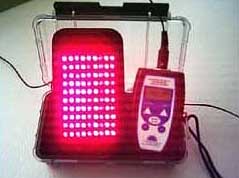 Discomfort and inflammation can arise in people as a result of disease-based conditions, physical trauma, work-related stresses, training, or other high performance activities. When looking for long-term solutions to these problems, many traditional western medical practitioners have been recommending the use of light energy therapy. Clinical tests have been conducted by NASA, Stanford University, and the Mayo Clinic, proving that light energy, or photon therapy, is able to help relieve pain and inflammation.
Read More > > >
---
Tick Twister - Safely Removes Ticks
The O'TOM hooks were invented and designed by a French veterinarian.
- The large hook has been marketed since October 1995.
- The small hook was designed in the spring of 1999 to complete the set ; its narrow jaws allow the removal of very small ticks (from 1/10th mm) while the large hook is used for larger ticks.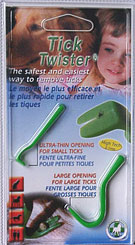 Technology: Material
The hooks are made of injected plastic (polyoxymethylene=POM). This plastic is recyclable. It can also be incinerated without pollution (no chlorine fumes during combustion). Other reasons for this choice of polymer are its physical and chemical qualities (solidity, resistance to ether and most solvents).

Life:
The hooks are unbreakable, hardwearing and indefinitely reusable. Life time guarantee: if you damage your Tick-Twister/O'TOM hook, contact us (Ginny@FurryKids.net) and we will explain you how to get your Tick-Twister replaced free of charge.

They can be disinfected with usual disinfectants (alcohol for example...), or sterilized in an autoclave at 284°F (140°C).
Read More > > >
---
Tsi-Ahga - Immune Modulation
Tsi-Ahga is a Native American Sacramental product derived from Conks that grow on certain cone-bearing trees. The 3-beta-D-glucans which make up part of the cellular structure of these Conks cause a pan-systemic modulation of T-Cells, Macrophages and Neutrophil White Blood Cells, when ingested. In fact, it has been established that the number and viability of these particular cells is increased by as much as 4000% within 20 hours after taking Tsi-Ahga! Macrophages and Neutrophils are the two cells upon which all other Immune Cells depend. You can have many viable B-Cells and T-Cells, but they will not be effective without the programming provided by these "Communicator" cells. Tsi-Ahga also contains bitter triterpene compounds that support the thymus and spleen (essential to insuring that immune cells are properly programmed), anti-tumor polysaccharides, blood pressure-reducing angiotensin re-uptake inhibitors, and perhaps the highest source of germanium in nature. Germanium is an oxygen catalyst and one of the most powerful free-radical scavengers found in nature.

Announcement: As of November 18, 2005, Furrykids.net, under the direction of Phil Cloudpiler Landis, ND, has been chosen as a steward for the purpose of distributing the Tsi-Ahga Simple. For additional information about Tsi-Ahga Simple and instructions for preparation send an e-mail to Ginny@FurryKids.net or call 800.595.4372 / 703.471.5588
Read More > > >