Dog Gone Pain
According to the latest statistics, fifty million Americans suffer from some form of arthritis, either rheumAches and pains reduce your dog's enjoyment of life and our enjoyment of their company. Running, walking, getting into the car or just rising to greet you become painful ordeals. Let DGP? (Dog-Gone Pain) help your dog become the same carefree and playful member of the family he or she used to be, and wants to be again. DGP was developed by leading Australian veterinarians & herbalists. It's a complete, all-natural formula that revitalizes older dogs physically and mentally:
Supports joint function
Enhances mobility and demeanor
Brings out the "puppy" in your dog
Noticeable results in just one week! All natural supplement for dogs containing: Feverfew, Celery Seed, Wheatgrass, Boswelia, Bromelain, Papain, Corydalis Root, Cayenne, Turmeric, Shark Cartilage and a Proprietary Blend of Native Australian Herbs.

Each bottle of DGP contains 60 great tasting chewable tablets. Use: Give dogs or cats one tablet for every 30 lbs. Of body weight daily. For dogs or cats under 15 lbs, use 1 tablet daily.

Cautions and Contraindications: Consult with a veterinarian before giving DGP. - Pregnant or nursing animals: ingredient herb's effect on platelet aggregation may cause an increase in blood clotting time to occur. - Caution should be used when combining DGP with anti-clotting drugs, antibiotics and NSAIDs. - Some dogs with ACL plates may experience an aggravation. - Do not give to dogs or cats with kidney disease. - As with any herbal supplement it is beneficial to give periodic breaks. Consult your health care practitioner.

To request FREE Samples of DGP, send us an e-mail with your name, address and phone. Also indicate the breed and weight of your dog: ContactUs@FurryKids.net



Dog Gone Pain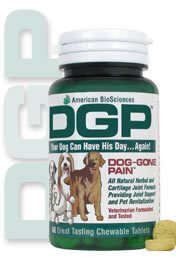 1 Bottle, 60 Tablets for $39.95
3 Bottles or more, 60 Tablets for $37.95 @


Please specify quantity by entering the number of bottles
you wish to order in the quantity field in the shopping cart and click 'Recalculate'.
<< Back <<