HyaFlex
Description: Chemical Name: Sodium Hyaluronate (COO Na) (CH2OH)
HyaFlex is hyaluronic acid for oral administration. Hyaluronic acid is a special compound that exists naturally in animals. It is one of the most heavily researched substances in medicine today with thousands of clinical trials mostly in the fields of orthopedics and eye surgery. Its function in the body is, amongst other things, to lubricate movable parts such as joints and muscles by restoring the amount and viscosity of synovial fluid. It is found most abundant in skin tissue to preserve moisture in the skin and regulate tissue permeation and transport of nutrients between the cells skin making it a great wound healing and moisturizing agent.

Chemistry: Hyaluronic acid, a glycosaminoglycan, can exist in the following forms depending on the chemical environment in which it is found. As the acid, hyaluronic acid; and as the sodium salt, sodium hyaluronate. It is composed of repeating subunits of D-glucuronic acid and N-acetyl-D-glucosamine linked together by glycosidic bonds.
Read More > > >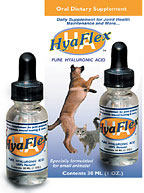 1 ounce (30 ml) 30 servings per bottle
$29.95
Order 6 bottles and you will automatically
be sent a 7th Bottle for FREE!!

<< Back <<