Tick Twister
- Safely Removes Ticks
The O'TOM hooks were invented and designed by a French veterinarian.
- The large hook has been marketed since October 1995.
- The small hook was designed in the spring of 1999 to complete the set ; its narrow jaws allow the removal of very small ticks (from 1/10th mm) while the large hook is used for larger ticks.

Technology: Material
The hooks are made of injected plastic (polyoxymethylene=POM). This plastic is recyclable. It can also be incinerated without pollution (no chlorine fumes during combustion). Other reasons for this choice of polymer are its physical and chemical qualities (solidity, resistance to ether and most solvents).

Life:
The hooks are unbreakable, hardwearing and indefinitely reusable. Life time guarantee: if you damage your Tick-Twister/O'TOM hook, contact us (Ginny@FurryKids.net) and we will explain you how to get your Tick-Twister replaced free of charge.

They can be disinfected with usual disinfectants (alcohol for example...), or sterilized in an autoclave at 284°F (140°C).
Read More > > >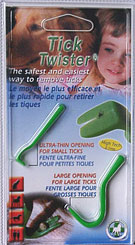 Twist ticks off safely without tweezers.
Two per pack: one small and one large. $4.75 per pack
or $3.95 per pack for 6 or more packs.


Please specify quantity by entering the number of packs
you wish to order in the quantity field in the shopping cart and click 'Recalculate'.
<< Back <<