Arthritis

Dear Ginny,

You have been so very helpful to my furry kid and me! My Australian Cattle Dog, Jenny, is 13 years old and has developed several classic signs of aging: Deafness, lack of energy, and arthritis. It made us sad to see her so uncomfortable and lethargic, and I went on the web looking for help. The angels that look after pets and their humans must have guided me, because I connected with FurryKids. You have been a wonderful help to us, taking the time to talk with me and explain diet modifications and other suggestions. Three months ago, Jenny could not even get up onto our couch without help. (Yes, folks, she sleeps on the couch.) Today she can jump easily, and has no trouble jumping into the car . . . one of her favorite places. While she will never be a pup again, she is definitely more flexible and comfortable in her little body.

Thank you Ginny and FurryKids for your concern and your help. Jenny and I appreciate you and will not hesitate to recommend you to any of our pet-loving friends who may need help.

Sincerely,
Shirley DeMet (Jenny's human)
Utah
April, 2005
---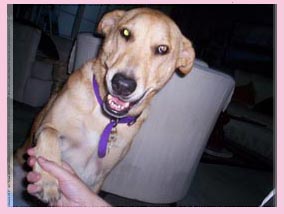 I spoke with Ginny from Furry Kids a few months ago. My dog AJA was very lethargic and was really struggling with the onset of arthritis in her hip. It broke my heart cause my girl was so active and loves running after the ball. Ginny was great and educated me on the importance of a meat based diet (raw diet being the ultimate goal. I had been feeding AJA dry cereal based food her entire life and THOUGHT I was doing the best thing for her. I switched her diet and added Ginny's Auragens Stress formula to her food. I now change her meat and give her a variety of meals. Aja is now running around like crazy (except when it is just too too hot and LOVES her new food so much.

thanks ginny
you are so devoted and wonderful for the animals.

love
rhonda selesnow and aja.
---
Anal Cancer | IBD, Spinal and ACL Injuries, Hot Spots | ACL Tears | FIP | Overall | Chronic Allergies | Deadly Virus | Lymes | Prolapsed Anus | Kidney Disease | Quality of Life | Twisted Vertebrae | The Whole Family | Arthritis | Fibrosarcoma | Lameness | Irritable Bowel Syndrome | Another Family | Lameness | Ear Infections | ACL | Bowel Disease, Deadly Virus |