Bowel Disease, Deadly Virus

Dear Ms. Rodgers,

I am hard pressed to put into words the admiration I have for your expertise pertaining to dietary supplements, suggestions on their use, and general holistic health care information regarding animals. You have a gentle way of presenting this information second to none!!!!

I have several dogs, two of whom were having life-threatening problems. The first dog is my own Mastiff, CH. Von Dinkel's Raging Calm AKA: Viper. Up to the time when I called you for a consultation I honestly believed I had provided him with, "ALL" the best options available to aid his condition.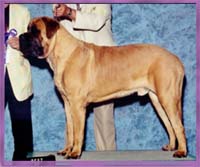 His bowels were spewing dark red blood; he could no longer stand to walk without assistance, necessitating a need to often resort to hosing of him and his facilities; his muscles had wasted away in a near state of total atrophy almost akin to rigor mortis; and he had developed a nasty case of pyoderma. As I am loath to provide heroic measures to prolong life, I resigned myself to the task at hand of relieving him of his burdens. I felt this was in his best interest and euthanasia my only option. Yet even with all of this, he refused to give up on life!

So I called FurryKids.net. And as we spoke you had a few ideas I hadn't considered. Within a week there was formidable improvement in Viper's condition: he was now evacuating normal stools, standing on his own to climb stairs to go outside, his skin began to clear up, and muscle was now forming all over his once emaciated body! He was once again trotting around playing with the other dogs in the family! What more can I say!?!

Oh....much more!!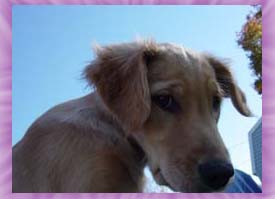 My companion's Golden Retriever puppy, Storm (left), came to us riddled with parasites. She had been vaccinated at the time she was infested with worms of varying types. In addition to this she had a nasty dose of coccidia! She had been treated with the conventional therapies yet continued to loose weight. Periodic loose stools and vomiting, were the order of the day! Her blood work revealed anemia, high BUN levels, high Alk Phos, high Bilirubin, in other words a real mess!! At four months of age she was weighing in at only 18 pounds. One week after beginning the supplements from FurryKids, she weighed in at 24 pounds.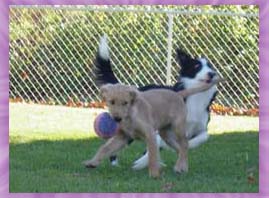 Most of her stools appearing normal once again, (other than when she decided to eat garbage from the garden, lol), her vomiting ceased, and she packed on lean muscle tissue. She now is the Golden we expected to see at this age!! (right)

Thank you for your assistance in bringing these creatures to a higher state of well-being than they would have otherwise known in their lifetimes!!

Bless you and FurryKids.net!!!

Sincerely,
Ginger Von Dinkel L.M.T., A.T., D.Hom.
Illinois, October 2004

---
Hi Ms. Ginny,
I have a few more tidbits of testimony to forward to you at FurryKids!

My crew of furry beasts are thriving on the protocols you've suggested! Now even "MOM" has jumped on board the FurryKids bandwagon!

Some months ago I myself had to succumb to a surgery on my wrist for entrapped tendons. My work as a massage therapist caused me to suffer repeated stress and strain to my hands and arms. You offer a couple of wonderful supplements and after your hint (LOL) that I might want to try them for support and nourishment after the procedure, I Immediately began taking the therapeutic dose. My surgeon was amazed by the speed and integrity of the healing of my wrist so I told him about the formula. He told me he is now recommending these to his patients.

As for the crew . . .

My Mastiff Gent was bitten by what we have to assume was perhaps a spider. With his tail severely infected in a matter of hours and turning gangrenous you made a quite a few of your thoughts available to me about how to possibly aid his pain and prompt his his body's healing response until we could get him to a surgeon who was out of town at the time this all happened to him! Within a week we had some new tissue forming so the doctor could remove the remainder of his tail! The doctor and I were pleased, to say the least!

Poor Chocolat my BC was having a bit of dry coat, so you explained the options available...."lo n behold." my sweetheart now gleams once again!

Viper is doing well too! After seeing and feeling the difference the LifeWave Energy Patches made for me, I placed them on Viper according to your instructions. Wow....you should see him!!! So I am now a distributor of LifeWave Energy patches! Once again kudos to you for bringing me into this organization as a distributor under your tutelage! My clients are loving them too!

Tanks of Thanks,
Love and Gratitude,
Ginger Von Dinkel L.M.T., A.T., D.Hom.
---
Anal Cancer | IBD, Spinal and ACL Injuries, Hot Spots | ACL Tears | FIP | Overall | Chronic Allergies | Deadly Virus | Lymes | Prolapsed Anus | Kidney Disease | Quality of Life | Twisted Vertebrae | The Whole Family | Arthritis | Fibrosarcoma | Lameness | Irritable Bowel Syndrome | Another Family | Lameness | Ear Infections | ACL | Bowel Disease, Deadly Virus |