Probiotic CoQ10+™
Whole-Food Probiotic Nutrient Dramatically Enhances Cellular Energy. Probiotic Nutrients™, exclusively from New Chapter®, are created by the two-stage culturing activity of nutritional yeast and three species of lactobacillus, acidophilus, bifidus, and rhamnosus. These beneficial probiotics culture the listed vitamins, minerals, and certified organic whole soy flour and food concentrates, creating 100% whole-food nutrients that are remarkably easy to digest and utilize, while simultaneously offering naturaly occurring phytonutrients such as soy isoflavones, beta glucans, bioflavonoids, SOD, glutathione, lipoic acid and enzymes. Caution: As with any dietary or herbal supplement, you should advise your health care practitioner of the use of this product.
Whole-Food Probiotics with Synergistic Co-Factors
Supports immune function*
Supports cardiovascular function*
Up to 20 times more antioxidant activity than USP synthetic CoQ10
Probiotic CoQ10-22mg equals over 400mg of the synthetic form.
100% vegetarian, no binders, fillers or artificial colors and flavorings.
SUGGESTED USE One capsule daily. Can be taken anytime, even on an empty stomach.

SUPPLEMENT FACTS One capsule contains PROBIOTIC NUTRIENTS %DV 22 mg ** CoQ10 ***
** Daily Value not established
***As nutritional yeast matrix

Other ingredients: Rice bran and vegetable cellulose (capsule).

*This statement has not been evaluated by the Food and Drug Administration. This product is not intended to diagnose, treat, cure or prevent any disease.



Probiotic CoQ10+™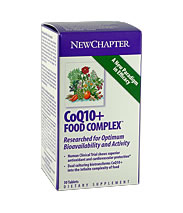 $54.95
Two or more $49.95


Please specify quantity by entering the number of bottles
you wish to order in the quantity field in the shopping cart and click 'Recalculate'.
<< Back <<